What does "OEM Specs" really mean?
Original Equipment Manufacturer Specifications. Competing engine re-manufacturers don't always have the ?resources of Ford Motor Company, and have to reverse-engineer the original product and attempt to duplicate the original. And when it comes to remanufacturing ?Ford engines to true Original Equipment specifications,
only we have proprietary Ford Engineering blueprint data. This intellectual property is not available to any competitor.
Ford uses only genuine OEM parts—every time, on every engine.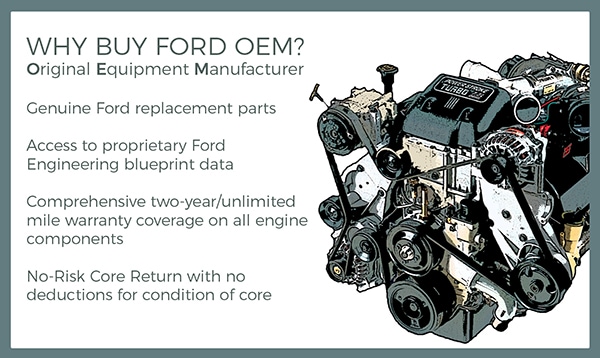 In addition, Ford backs its engines with a two-year, unlimited-mileage warranty with nationwide coverage on every component for the length of the warranty. Ford also replaces the EGR cooler and oil cooler with a new OEM part on every remanufactured diesel engine. None are rebuilt or reclaimed, which goes a long way toward ensuring reliable operation.
Competitors often consider many critical engine components "maintenance items" and warrants them for only one year. None of these components have a recommended maintenance interval or replacement schedule. That's because they are not maintenance parts, and that's why Ford fully covers them all, for the entire two-year warranty period.
Warranty process should be as streamlined as the engine itself, and under the Ford Warranty policy an engine can be serviced under any of over 3,000 Ford and Lincoln Dealers nationwide, with no customer out-of-pocket expense for warranty repairs. Often, competitor policies require notification of a warranty claim, time to approve the claim, and sometimes even require the defective parts be shipped prepaid to the company and repaired at the expense of the customer.
Choosing Ford's OEM Spec engine servicing options is crucial to maintaining your engine properly and keeping your costs as low as possible. Ford does the job right, with the right parts, the first time.