The Houston Livestock Show and Rodeo is part of our city's culture of giving back, while also providing educational opportunities to students across the region. As for the best barbecue and live music in the state, well, that's just a perk of being a Houstonian.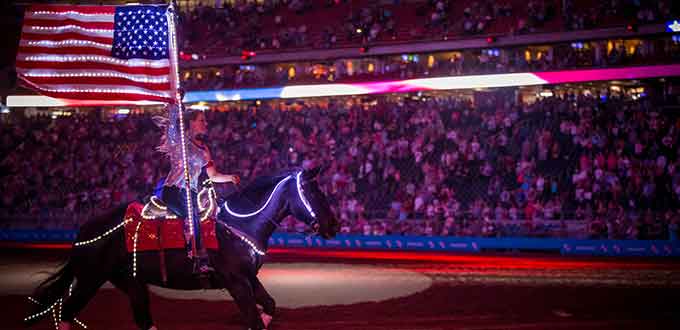 The Chastang family rodeo connection reaches back to 1996 when Mary and Joe Chastang first became involved through their customers, who were selling poultry and livestock. Their interest and affection for the HLSR steadily grew, prompting them to join the Poultry Committee. The couple has never looked back.
"Some charities spend a lot of money on administration, but the money at the rodeo goes where it's supposed to go—to the educational mission of the rodeo," Joe Chastang, Chastang Ford Chief Executive Officer said. And it takes an army of volunteers to execute that mission too—34,000 volunteers to be exact.
The people the Chastang's met at the rodeo also made a difference. The family connected with others who shared their same philosophy on education and philanthropy, creating life-long friendships and memories in the process.
An extra perk was the connection to the students who directly benefitted from the Chastang family buying their animals and serving on various committees.
"The kids got your money for scholarships and you get to know the kids. They send you letters and let you know what they are doing with the scholarship money. It's a nice personal touch," Joe said.
Even better is the connection from one generation to the next.
"The kids who received scholarship money come back through with their kids years later," Chastang Ford Chief Operating Officer Patrick Chastang said. "Buying from multiple generations of a family are what ties the city together."
Being a part of the HLSR has also solidified Chastang Ford in the business community. Small and mid-size business are at the core of the Chastang dealership and the family has enjoyed growing with their customers over the years.
The rodeo is still very much a Chastang family affair. Joe has served on the HLSR Board of Directors since 2003 and Patrick is a HLSR Life Member, having served on the Transportation Committee, Land and Goat Auction Committee and Poultry Auction Committee. Mandy Chastang Venghaus, Chastang Automotive Group Chief Financial Officer, is also a HLSR Life Member and has served on the Parade Committee and the Wine Sales Committee since 2008 and 2011 respectively.
"I remember seeing Roy Rogers in the Coliseum during the rodeo as a kid. Those are great memories," Joe Chastang said. "The rodeo goes back to the ranching and agricultural roots of the city, and I am glad we are involved."