What does "OEM Specs" really mean?
Original Equipment Manufacturer Specifications. Competing engine re-manufacturers don't always have the ?resources of Ford Motor Company, and have to reverse-engineer the original product and attempt to duplicate the original. And when it comes to remanufacturing ?Ford engines to true Original Equipment specifications,
only we have proprietary Ford Engineering blueprint data. This intellectual property is not available to any competitor.
Ford uses only genuine OEM parts—every time, on every engine.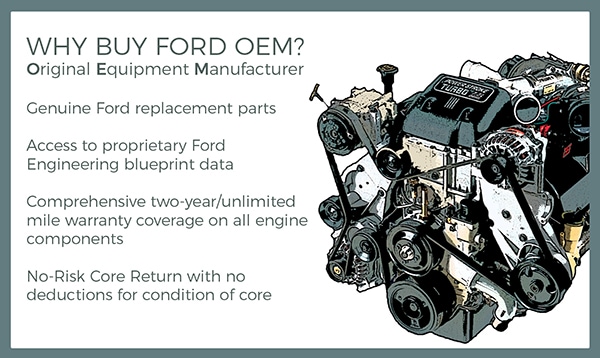 In addition, Ford backs its engines with a two-year, unlimited-mileage warranty with nationwide coverage on every component for the length of the warranty…
Read More